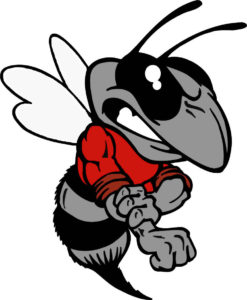 High School:  Hancock County High School
Coach

: Aimee Estes
Address: Lewisport, KY

Mascot: Hornets

School Colors: Red, Gray, White

Years Coaching: 17 Years
Advice for new cheerleading coaches: Tell them the rules up front. Make sure they are clear. You have to stick to your guns.
How do you motivate your team: Keep reminding them of the goals they set for themselves. This year my team wants to do a competition at Disney in Florida. So I remind them of that when we have a tough practice.
Top Safety Tip: FLYERS DO NOT HIT THE GROUND. My team know that is my first safety rule. The flyers can't hit the ground.
Favorite thing to teach/ coach: Dance. I love to teach the dance portion of our routine. That's what my background is in.
When I'm searching online for cheer stuff I'm usually looking for: New Stunt sequences. I look for what's trending in stunt sequences. I try  to find videos that break down the sequence and hand grips.
Save