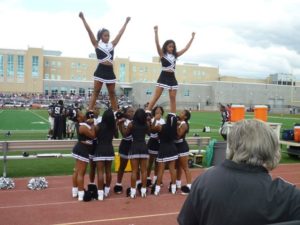 High School: Harrisburg High School

Address: Harrisburg, PA 17103

Coach: Brianna Ramen

Team: JV, Varsity, & Competition

Mascot: Cougar

School Colors: Black, Gray, & White

Safety tips: Always use extra spotters when trying new stunts.

How do you motivate your team: We take a break and have a conversation. That way we can get ideas from the team.

Practice must dos: We have a demerit system. That sees to really work for us. We use it for behavior and accountability.

Advice for new cheer coaches: Patience. You spend a lot of time teaching especially when working with girls that have never cheered before.

Most googled Cheer info: Stunt ideas, new cheer routines, and gymnastics.
Save