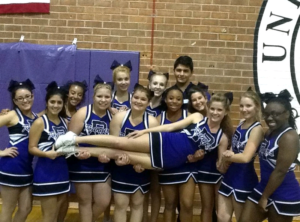 High School: Rincon High School (AZ)
Coach: Vickie Saunders
Mascots: Ranger
School Colors: Purple, White, & Black
Years coaching experience: 7 Years
How do you promote school spirit? This is a rebuilding year for us, so we are working on that. I really just want the team to be leaders on campus. They should lead by example. We try to really get out there in the community. We want to be supportive of all the sports teams.
Advice for new coaches: You need an athletic director that's supporitve. Be hard at first. Set the standard for your team. 
Top safety tip: Always have spotters. Take it slow and never force a stunt to go. Let the coach know if you do not feel comfortable. If it's the first time, watch first, listen, and learn while you have mats. 
How do you motivate your teams: We are working on that now. Things are a bit wishy/ washy right now. That is a goal for us to continue to work on it. 
Most googled cheer info: The past few weeks we have been looking at new stunting technique. Also new Basketball cheers for the season.