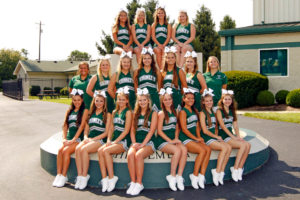 High School: Trinity High School
Head Coach: Hannah Graham
Assistant Coach: Rachel Olson
Moderator: Kristin Meyer 
Address: Matthews, KY

Mascot: Shamrocks
School Colors: Green and White
Years of coaching experience: 16
*Number one tip for new coaches: Make it enjoyable. It's all about having school spirit for us. We want to make it fun but also help promote school pride!
* How do you motivate your team: If we are having a tough time or a particularly tough practice sometimes we just end practice early, rest and order some pizzas. That way we can relax and regroup. Again, we want to make it fun. 
* What is your favorite thing to coach: Sideline chants! It's all about school spirit for us. We want to get the crowd involved. I like to teach side line and really show them how to get the crowd participating and cheering on our athletes. 
* Where do you go for crowd participation cheers and chants: We don't really use the internet. We've had the same sideline cheers and chants for years. We just reuse them. Also, we like the cheerleaders to be creative and come up their own. Plus it's fun to let them teach the rest of the team!
Save