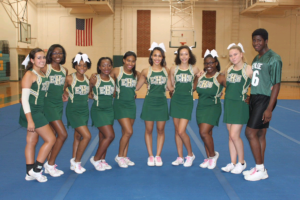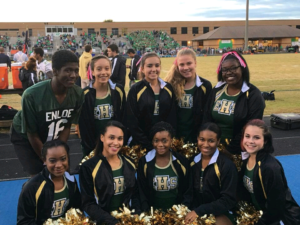 High School: Williams G. Enloe High School
Coach: Kristi Field
Mascot: Eagle
School Colors: Forrest Green and Gold
Years Coaching Experience: 23 Years
* Advice for New Coaches: Always communicate with parents! The parents can make or break you. Take the time to get to know them because you will be working with them all season.
*Favorite thing to teach/ coach: Stunts! I like how precise they are. I think it's fun to take a team that knows nothing about stunting and teach them an entire sequence. I like to watch them work to see how it comes together in the end.
* How do you motivate your team: We do what I call a CTJ! That's a come to Jesus meeting.  We create a safe space to say whatever you need to say. That way everyone can say what they want and really get it off their chest. Nobody in the meeting can hold it against you. It also helps generate ideas so that everyone can do better. When it's over they feel fresh and ready to start again. It works for us.
* This years practice must do: We have a saying. It's different every years. It's just a few motivational sentences to get our heads in the right place. We put our hands in and say it at the start of practice, at the end, at every game, and at every competition.
* What cheerleading ideas do you look for on-line: Always new stunt ideas. The stunts are always evolving and changing. It's hard to keep up. I always go looking for what's new and trending.
Save