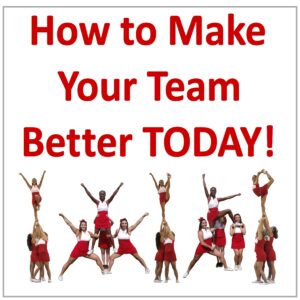 By now, I am sure you have heard of the docuseries CHEER on Netflix.  It not only is entertaining but a wonderful look into what cheerleading is all about.  There are so many lessons that can be learned to improve your team that you can implement TODAY!  Take a look at our list and try a few of the tips with you team and watch your athletes grow individually as well as a team!
Cheerleading is FUN!!!
Watching CHEER shows the ups and downs of cheerleading but it truly shows how much fun and pride you have when you are on a cheerleading team!  And we all know, that one of the primary reason that our cheerleaders join a team is to have FUN!  So, try to make your practice fun by adding a team building activity – (CLICK HERE FOR  TEAM BULDING ACTIVITIES).  This will also build trust between your athletes and will create a more unified team.
Cheerleading is much more than cheerleading skills.
Being a part of a cheerleading team is also about personal growth, having a place to belong and identifying with and building your personal brand.  When you are on a team that you enjoy, it becomes a part of your personal identity.  It will challenge your personal growth, communication skills and should build your confidence.  To help your athletes grow TODAY, schedule a community service project like teaching a clinic at the boys and girls club or volunteering at the local animal shelter.
Showmanship is important!
One of the best lessons from CHEER came at the very end of the series when their Coach was talking about what to do when the winners were being announced at the competition.  Her instructions were clear that her team would be gracious, show respect and not "pout" if they did not win.  One way to implement this TODAY is that at your next event or game, make some inspirational cards or small gifts for the opposing team (it could just be lolly pops with a note attached).  At your event, have your cheerleaders approach the other team at the beginning of the activity; it will set a positive tone for the event and will make your cheerleaders feel proud and really great!
Practice when you are "tired" … do it 1 more time!
When you get to the end of your practice and everyone is tried, this is a great time to do it 1 more time!  This practice technique will strengthen your skills as well as your mental attitude about what you think you can do.  So to start TODAY, at the end of your practice, leave a few minutes to run through the skill(s) you have been working on and make sure to compliment your athletes on their achievements today!
Your mental attitude is SO IMPORTANT!
Why do some teams win year after year, even with new cheerleaders?  When you join a team that is known for winning, you automatically have a certain expectation that you are going to win too.  With this attitude, you are already 80% there!  Go in with a full expectation of your achievement and watch it unfold.  To implement this TODAY, at your next practice have your cheerleaders each talk about something that they or your team has already accomplished this season.  This will set a successful tone to your practice and make them feel more optimistic about your goals for that day.
MAT TALK!!!!!
Who doesn't love the concept of Mat Talk!?!  This is all about being supportive of each other, no matter what!  Cheering on your teammates if you are on the sidelines just as if it was you on the mat is a HUGE motivator for everyone on the team.  This type of encouragement creates strong team bonds as well as motivation to achieve more. To implement this TODAY, every practice, have 1 athlete be the "Captain" of Mat Talk to motivate your team.  The will be the primary person that day responsible for positive and supportive talk for EVERYONE on the team!  At the end of each practice have the "Captain" give a positive talk about that practice and have them choose the "Captain" for the next practice!