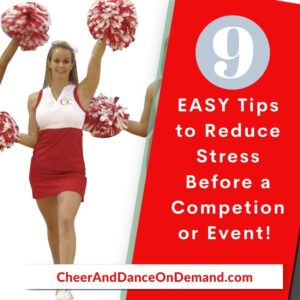 Over the past 26 years of coaching thousands of cheerleaders, there several things that are completely "normal" for all cheerleaders and teams to go through.  One of the most common is for the athletes to be nervous and anxious before a competition or event.  Here are some of the top tips to help ease the anxiety and make your event more fun!
Breathe!  I know it sounds simple, but so many cheerleaders forget to breathe while they are performing.  Also, when they are off stage, waiting to go on, remind your team to breathe and just relax and enjoy the moment.
Remind your team that this is FUN!!! Tell them to take it all in and just to enjoy the moment and have fun!
Go to the bathroom before you are in the staging area. I find that so many girls all of a sudden have to go to the bathroom just before going on due to being nervous.  If they go to the bathroom before getting in line, it absolutely helps!
Remind yourself to Be Proud of all that you have done to get ready for this moment and know that you are ready to do your best.
SMILE!!! Smile big for 30 seconds to improve your mood and to help you relax.
Do a "Wonder Woman" pose for about 30 seconds to make your feel more confident instantly.
Visualize you doing your routine, enjoying the experience and doing your best.
Remember, you are not alone! You have an entire team with you and you are all in this together.
Have a list of 5 to 10 positive affirmations that you can say before you perform to get you in the right mindset. Here are a few that we use: 
I GOT THIS

I am PROUD of ME and I am AWESOME!

This is SO MUCH FUN and I am so excited!

Everyone is going to love our routine and support us!
Let us know if you have any other tips that help your team relax and enjoy the event!
xo Valerie