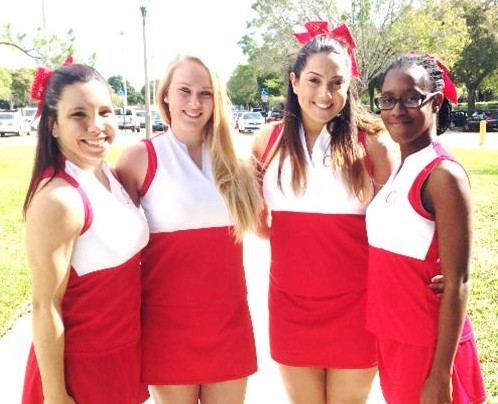 Welcome to Summer!  And that means it's time for cheerleading summer camp! What an exciting start to your season! Some teams are traveling to a week long program in another state, while other teams are having a camp at their school in their gym.  No matter where your team is headed, get ready for some fun while you learn, try, and do new things; here's are some tips to help you maximize your learning experience at your camp:
DOWNLOAD THE LEARN, TRY DO WORKSHEET HERE
First day jitters.  Don't worry everybody gets them so try to relax and have fun.
Learn:  Now is a time to learn new skills and get tips on how to perfect them. This is where the learning starts.  Remember, cheerleading teams don't start with the skills to do complex transitional pyramids and individual cheerleaders don't start out doing round off back handspring, back tucks. Everybody starts somewhere and usually they get that introduction at camp.
To maximize your learning at camp, here are some things to consider:
Know your teams starting skill levels; this includes stunting, tumbling, dance and leadership skills.

Set some goals with your team about where you are and what you would like to accomplish at camp.  (Click Here to our Team Goal Setting Sheet)

When you set your goals, try to narrow them down to at most 2 main goals in each cheer skill that you want to get out of camp. For example, you want to learn 2 big stunting sequences and 2 dances.

Once you have set your team goals, bring them to camp to remind your team of why you are there. Also, you can share your goals with the camp staff so when you have some one on one practice time with the staff, they can specifically help you.

Remind your squad that everyone is learning, mistakes are expected and that you rarely get things on the first try so KEEP TRYING!

Keep the learning portion light and positive.  Give out compliments, rewards and make the learning FUN!

When learning dances, split up your team and send a small delegation to each of the routines as it is difficult to remember 2 or more routines, plus cheers, stunts etc. For example, if you send 5 girls to the hip hop dance and 5 different girls to the fight song, you are more likely to come back home with girls who will remember all of the curriculum.

Video tape as much of the curriculum as you can so you can reference it and refresh your memory at practice.

Keep a journal (and ask your cheerleaders to keep a journal as well) to take notes of what you are learning, your thoughts and how you are going to incorporate the new skills into your season.
For more tips on how to maximize your cheerleading summer camp experience, CLICK HERE 🙂
Save
Save