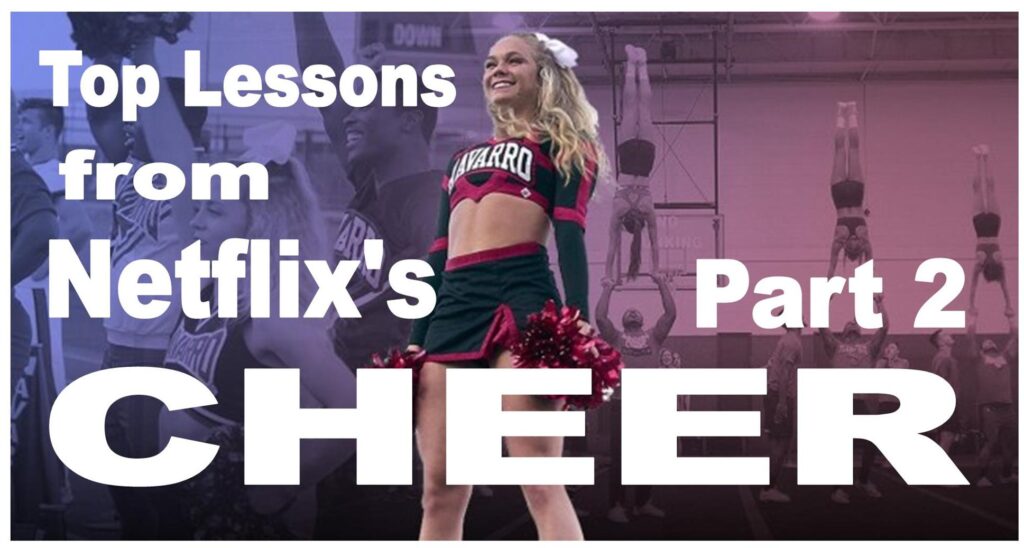 Watching the docuseries CHEER on Netflix is not only entertaining but a wonderful look into what cheerleading is all about. Here are the top 6 lessons to be learned from CHEER:
Practice when you are "tired" … do it 1 more time!
When you get to the end of your practice and everyone is tried, this is a great time to do it 1 more time!  This practice technique will strengthen your skills as well as your mental attitude about what you think you can do.
Have a contingency plan for EVERYTHING that can go wrong.
This is such a great lesson from Cheer when the coaches literally plan for EVERY fall, injury, misstep and more.  They have their team prepare for each incident so if it happens at the competition, the team is prepared. 
This coaching tip is HUGE for your team as it will build their confidence in their routine and that they CAN do it, no matter what!
Your mental attitude is SO IMPORTANT!
Why do some teams win year after year, even with new cheerleaders?  When you join a team that is known for winning, you automatically have a certain expectation that you are going to win too.  With this attitude, you are already 80% there!  Go in with a full expectation of your achievement and watch is unfold.
Coaches are HUGE Role Models for their team!
The role of a Coach can be make a HUGE difference in their team members.  Great coaches truly care about their athletes and provide support, personal guidelines, leadership as well as various life skills.  These lessons can truly last a lifetime.
Celebrate your victories, even the small ones.
As you can see throughout the entire series, the coaches as well as the team members celebrate their victories of all sizes.  They celebrate when a new stunt gets up, when a member gets great grades and more.  It is so important to recognize your accomplishments throughout your journey, not just the competition win.
MAT TALK!!!!!
Who doesn't love the concept of Mat Talk!?!  This is all about being supportive of each other, no matter what!  Cheering on your teammates if you are on the sidelines just as if it was you on the mat.  This type of encouragement creates strong team bonds as well as motivation to achieve more. 
What are your favorite lessons from Cheer?   Let us know in the comment below!

For our other 6 lessons we learned from Cheer:
click NETFLIX CHEER LESSONS HERE